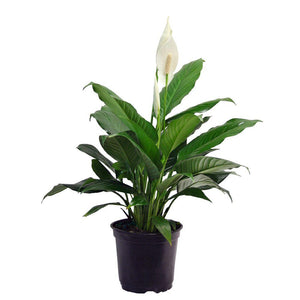 Peace Lily blooms best in high-light situations. It will tolerate low-light conditions well, but won't bloom much, if at all, so keep lighting in mind if the flowers or foliage is more important to you.

Water peace lily enough to keep the potting mix moist, but not wet or soggy. The plant will wilt dramatically when it gets too dry, but happily, its leaves pop back quickly after it gets moisture. 

Being a tropical plant, peace lily prefers high levels of humidity. If the leaf edges turn brown, supply more humidity by grouping it with more houseplants (which release moisture into the air as they breathe) or set it on tray of gravel and water so the pot sits on top of the gravel, above the water.