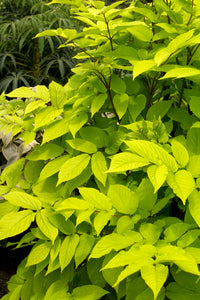 Bright gold leaves that linger through summer. Perfect for a sheltered spot near a water garden or dipping pool. Great in shaded entryways or patio; perfect for containers or as a houseplant. Flowers are followed by black ornamental berries. Evergreen.
Water Needs: Water regularly to maintain evenly moist soil - weekly, or more often.
Fast growing; reaches 5 ft. tall and wide annually.