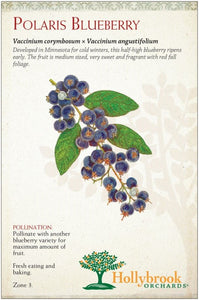 Polaris is one of the best tasting, hardy Half-High Blueberry selections ever!
Half-High hybrid Blueberries have become the hit of cold winter Blueberry growers. The Polaris is extremely cold hardy. It produces a bountiful crop of wonderful flavored fruit on a perfectly sized plant for the average landscape. 
The Polaris produces medium sized, shiny, fragrant, light blue, firm berries with a classic sweet Blueberry flavor. It brings just a hint of acidity to spice things up. Excellent!
Height: to 4'
Spread: to 4'
Early. Zone 3.