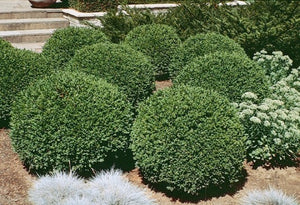 A small, lush mound of emerald green summer foliage with some bronzing in winter cold. Naturally oval form and dense foliage is perfect for low hedges and an excellent foundation plant. Protect from drying winter winds to prevent tip dieback. Evergreen. Deer resistant!

Slow growing to 3 to 4 feet tall and as wide.
Light Needs:
Partial to full sun

Water Needs: Needs regular watering - weekly, or more often in extreme heat.