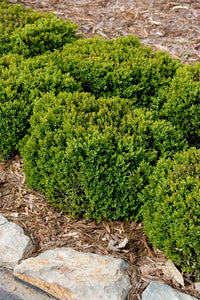 A full-bodied boxwood well-suited for dense, low hedges. Foliage retains its rich green color throughout winter. Develops a vigorous, rounded form if not pruned. A wonderful evergreen that will provide year-round, cold-hardy color and structure in the garden. Deer resistant!

Moderate growing; reaches 3 to 4 ft. tall and wide.
Light Needs:
Partial to full sun

Water Needs: Water regularly - weekly, or more often in extreme heat or containers.