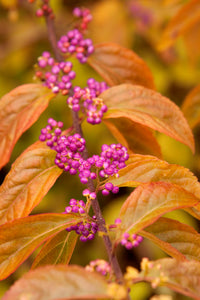 Massive quantities of small, ornamental, amethyst-colored fruits appear along the slender, arching branches, following the clusters of small, pinkish lavender summer blooms. Green foliage gives way to gold fall color. An easy to grow hedge or foundation plant. Deciduous.
Water Needs: Water regularly - weekly, or more often in extreme heat.
Moderate growing; reaches 3 to 4 ft. tall and wide.