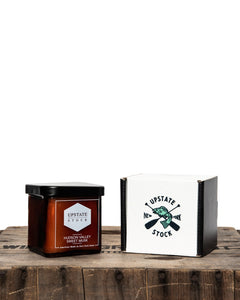 The Hudson Valley Sweet Musk candle has a fragrance oil musk base with Texas cedarwood essential oil and a hint of vanilla musk fragrance oil. All fragrance oils are phalate free. 
We use a coconut oil based wax which is 100% natural, non-gmo, and sustainable. Coconut wax is poured at a very high temperature which creates a long lasting, clean burning candle. Some candles may experience "sweating" (expulsion of excess oils) during changes in temperature. 
All candles are 8oz with 50 hours of burning time. 
Poured with pride in Brooklyn.