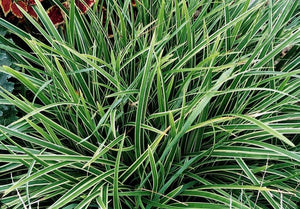 A lush mound of slender, bright green leaves with strong creamy white margins that will brighten woodland gardens, water gardens and shady borders. Spreads gently by underground stems (rhizomes) to create a dense mat of foliage. An easy growing, non-invasive groundcover. Semi-evergreen.
Water Needs: Water regularly to maintain evenly moist soil - weekly, or more often.
Reaches 1 ft. tall, spreading slowly by rhizomes to form a carpet.