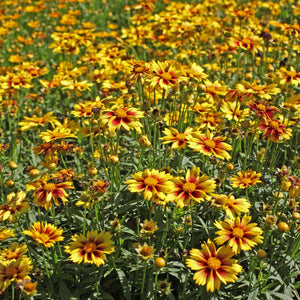 A dwarf Coreopsis that provides brilliant hues of yellow, red and orange all season long. 10 years in the making with parentage from 8 different species, this variety exceeds in disease resistance, cold, heat and drought tolerance. Can bloom as early as May, if the weather is warm, and rebloom into autumn. Deadheading entices new flowers faster but the plant is good about reblooming on it's own. An added bonus is its deer resistance.
Mature height: 9-12"
Mature width: 14-20"