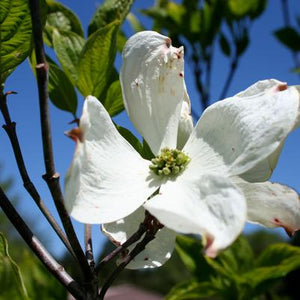 large, white flowers in early spring
Striking purplish-red fall color
Red fruit attracts birds in the fall
Deer resistant
There is nothing like a Dogwood in bloom to tell you spring is here. 'Cherokee Princess' enhances that feeling by producing huge white bracts that are far larger and showier than the species and producing them far earlier in the life of the tree as compared to the species. Like its close relative, 'Cherokee Princess' forms a flattened, spreading, globular canopy at maturity with large, deep green leaves that turn a spectacular purplish-red in fall. It also produces the same small, red, berry-like fruit that will see your yard become the most popular stop in the neighborhood for songbirds. Plant 'Cherokee Princess' in partial sun (morning sun is best) along the edge of wooded areas.