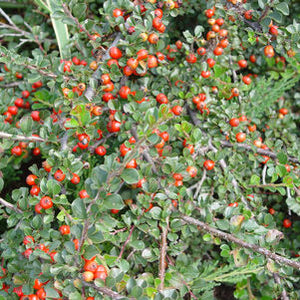 Mounding, spreading and quick-growing
Year-round interest
Small pink flowers late May
Shiny, fine-textured foliage
Berries attract birds
Great en masse
Mounding, spreading, and quick growing, this plant has interest year round. Profuse small pink flowers appear in late May followed by an impressive fall show of large red berries that attract birds. Excellent for banks and massing, nice shiny, fine textured foliage.
Moderate growing; reaches 3 ft. tall, 6 ft. wide.
Water Needs: Water regularly - weekly, or more often in extreme heat.