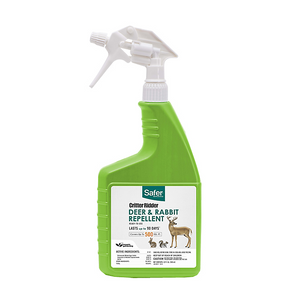 Get defense from destructive animals with a long-lasting repellent that offers two layers of protection. Safer® Brand Critter Ridder® Deer & Rabbit Repellent repels for up to 90 days by triggering both senses of scent and taste, making it double-trouble for pests. The formula is fast-acting and proven effective in keeping animals away from protected areas. 
Critter Ridder® Deer and Rabbit Repellent's first layer of defense is putrescent egg, which repels by scent. To the animals, its odor imitates that of a decaying animal, and this warns them of nearby predator activity and causes them to forage elsewhere. The unique second layer is provided by the garlic and hot peppers, which repel by taste. The burning flavors of these ingredients make your plants inedible to the animals, causing them to seek food elsewhere. Critter Ridder® dries odorless to humans.
Critter Ridder® Deer & Rabbit Repellent is weather-resistant and gives you season-long control. Plus, it lasts up to 90 days so you can spend less money and time reapplying.
Critter Ridder® Deer and Rabbit Repellent 32 oz bottle can protect up to 500 sq ft. The repellent comes in an easy ready-to-use spray bottle. To use, simply point in designated area and spray! Apply the solution in outdoor areas where animals are wreaking havoc, such as:
Lawns
Flowerbeds
Plants
Gardens
Birdfeeders
Near Barns
Near Trash Cans