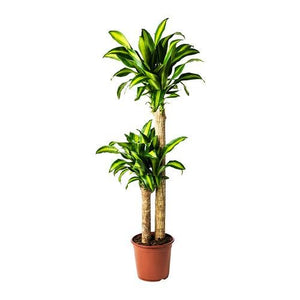 A dracaena massangeana, also called a dracaena corn plant, can tolerate low light but grows faster and produces larger leaves in medium to bright indirect light.
Like all dracaenas, allow the top 50-75% of the soil to dry out before watering. A corn plant dracaena survives under-watering, but quickly dies from over-watering. 
When small, a dracaena corn plant can sit on a table, but its claim to fame is as a stately, 7ft-10ft tall tree. 
Fertilize monthly in the spring and summer with a balanced plant food diluted to 1/2 the recommended strength. Never feed a dracaena during the winter and fertilize only once during the fall.