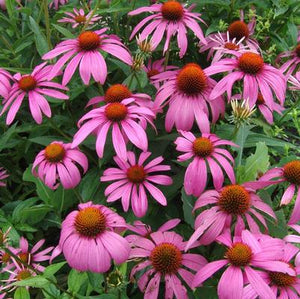 Attracts butterflies in large numbers
Hummingbirds thrive on the sweet nectar
Finches crave its seed in the fall
Long blooming and a colorful cut flower
Drought tolerant once established
Looks terrific planted with native grasses
Echinacea purpurea is one of the great butterfly magnets of the native perennial garden. Coneflowers are easy to grow in average to dry, well-drained soils. Flowers with large orange-gold spiky centers and strong reflexed rose-pink petals appear in July and August. Very drought tolerant.