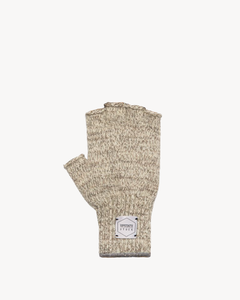 100% U.S.A. made from 3 ounce of American Ragg Wool, these fingerless gloves are washed and dried for ultimate comfort. 
All labels are lightly tacked on and can be removed easily - don't worry, we won't be offended if you take them off.
All cuff hems are serged with an elastic thread to help retain cuff shape even after washing. 
Please be aware there could be some loose threads on the hem or in the finger openings that were missed in the trimming process. Please just cut off. 
Content
85% USA Wool, 15% USA Nylon
Ragg Wool
The nylon in this traditional workwear/gardening wool blend allows for shape retention and durability. The high quality wool will wick away moisture to keep hands warm and dry. 
Washing Instructions
 Hand wash with a soft detergent such as Woolite. 
Source
Knit in Upstate, NY and finished in Brooklyn, NY.
Size Info
Each style of glove we make comes in two sizes, a smaller size, and a larger size. For the fingerless glove we recommend men hands on the smaller side to buy the the S/M size, as the gloves will stretch out as needed. In general, we make the fingerless gloves larger as we do not want an overly tight fit and believe the gloves look better with some room around the palm and top of the hand.