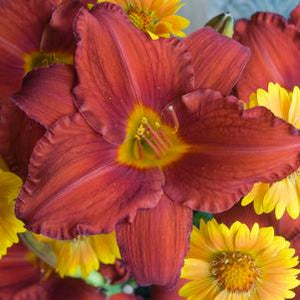 Dependable late season bloom
Deep green foliage
Flowers late June into August with 5" crimson flowers with green throats
Disease and drought resistant
Big, beefy plants and dependable, late season bloom make this selection worth a second look. Clean, deep green, strap-like foliage forms a sizable yet tidy mass in the landscape that gives rise to multiple flower stalks that rise above the foliage and open from late June into August displaying big, 5" diameter, bright, crimson-red flowers with green throats. 'Chicago Apache' is disease resistant and drought resistant along with its ability to put on an outstanding flower show.