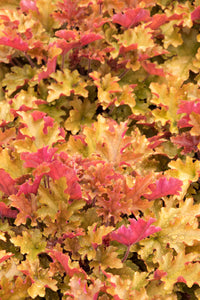 Dramatic foliage ranges from deep golden hues to glowing reddish pink with undulating margins. Golden mature foliage features hot pink undersides. Sweet sprays of tiny white flowers emerge on vivid red stems. An outstanding seasonal accent for border or woodland garden.
Water Needs: Water regularly - weekly, or more often in extreme heat or containers.
Average landscape size:
Foliage mound grows 10 in. tall, 16 in. wide; flower stems to 18 in. tall.