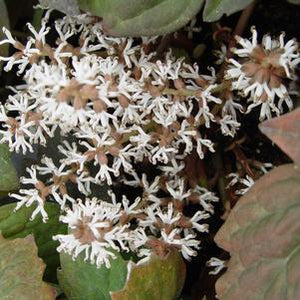 Less invasive but still possesses groundcover qualities
Evergreen or semi-evergreen
Native
Sizable colonies of stems with deep green 2-4" long leaves
2" tall spike of small white fragrant flowers in early April
Attracts landscape critters with the shade it provides
Many people confuse this plant and think of it as a perennial. You may be able to treat it that way, but it really is in the Boxwood family and many times stands in the shadow of its overused Asian cousin, Pachysandra terminalis. Procumbens is a much better landscape plant, far less invasive yet still possessing the groundcover qualities of survival in tough areas that will make it incredibly useful in the landscape. This plant is evergreen zone 6 in the south and semi-evergreen north of this zone. It slowly forms sizable colonies of stems with whorled, deep green 2-4 long, slightly mottled leaves at the top and bare stem below. Flowers appear at the tips of stems above the foliage in early April forming a 2 tall spike of small, white very fragrant flowers that native insects flock to. As fall approaches, its mottled green foliage takes on a bluish cast and the mottling becomes far more pronounced, giving it an even better landscape look. This shade lover is perfect for massing in wooded areas and your garden critters will love the low cover it provides.