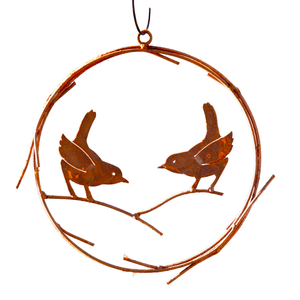 Our Bird Wire Wreath is an artistic, yet minimalist design - the perfect way to add a subtle display of nature among many different decor styles. Its circular border is constructed from metal pieces that closely resemble thin, three-dimensional branches. It is complete with two wrens, identified by their signature pointed tails. 
The Bird Wire Wreath is made of recycled steel and pre-treated to create our signature rusted texture and natural look. It would be a gorgeous addition to your wall decor, garden, or even the front door of your home! 
his gorgeous piece of metal garden art is so easy to display. It includes a loop at the top so that you can easily hang it wherever you'd like as soon as it arrives!
Your steel silhouette can be gently shaped by hand to add dimension and depth. Simply fold out the wings to awaken their life-like charm!
Dimensions: 10.5" diameter