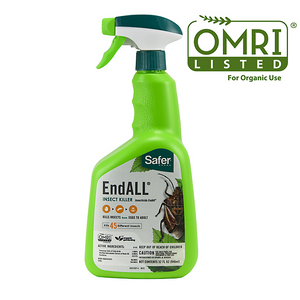 Safer® Brand End ALL® Insect Killer kills 45 different insect species in any stage of the life cycle including eggs, larvae and adults. The unique combination of pyrethrin, neem oil and potassium salts of fatty acids eliminates hard- and soft-bodied insect pests, and comes in a convenient ready-to-use spray.
Kills insects in all stages of life from eggs to adults.
32oz ready-to-use spray--just point and spray.
OMRI Listed® and compliant for use in organic gardening.
Use on trees, shrubs, fruits, vegetables, flowers, and houseplants.
Can be used up until the day of harvest.